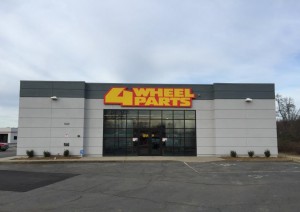 For Immediate Release
Compton, California (February 9, 2015)  4 Wheel Parts, the global leader in off-road performance product sales and installation, continues its North American expansion by opening its most recent retail location in Little Rock, Arkansas. The store becomes the 67th retail location for Transamerican Auto Parts (TAP). As a corporation dedicated to serving the Jeep and truck enthusiast, TAP recognizes the importance of establishing itself in new markets.
Transamerican Auto Parts is additonally the parent company of Transamerican Manufacturing Group (TMG) which includes Smittybilt, Pro Comp USA, LRG Rims, G2 Axle & Gear, Rubicon Express Suspension and Trail Master Suspension, along with its latest acquisition, Poison Spyder Customs.
"It's exciting for us to bring the products and service of 4 Wheel Parts to Little Rock," said Sam Cervantes, 4 Wheel Parts Director of Store Operations.  "Now, we're looking forward to getting to know the off-roaders in the area, both in the store and on the trail."
The 12,000 sq.ft. store, located at 5620 Warden Road in North Little Rock, is the region's only off-road performance center, and features an interactive showroom, a four wheel alignment rack and multiple service bays.
Along with expert advice and product selection, the store features services such as installation, routine vehicle maintenance and diagnostics, and tire mounting and balancing, all conducted by ASE-certified mechanics. Customers will also benefit from Transamerican's National distribution and warehouse network, which will allow the majority of products to be delivered to the store in just one day.
Having recently opened six Canadian locations, 4 Wheel Parts projects the addition of multiple new locations in the United States this year. While focused on opening new stores in new markets, the company is also in the process of a major remodel project for all of its existing locations. This project, expected to be complete by 2017, will bring 4 Wheel Parts customers across North America the innovations found in the newest showrooms.
Transamerican Auto Parts. We Sell It. We Own It. We Live It. 
For more information about Transamerican Auto Parts and Transamerican Manufacturing Group, please visit: https://transamericanautoparts.com/
About 4 Wheel Parts 
4 Wheel Parts is the global leader in off-road, Jeep and aftermarket performance products. With 67 locations across the US and Canada and growing, 4 Wheel Parts Service Centers install all the products they sell. With the nation's largest inventory of off road tires, wheels, lift kits and accessories, 4 Wheel Parts serves customers across the country and around the globe. Life is Better Off-Road™.
Visit us at 4wheelparts.com or call toll-free 877-474-4821.