Transamerican Auto Parts

Our Story
1961-1985
From Humble Beginnings to Retail Storefronts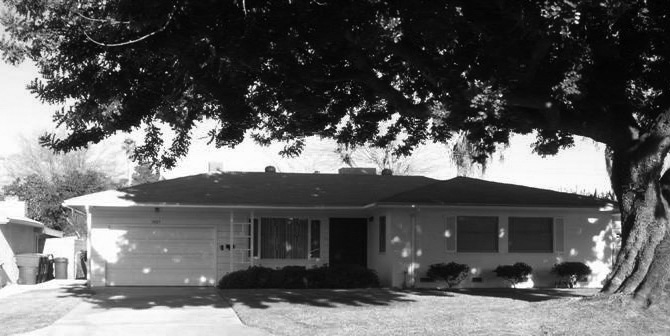 1961 "Quality Parts, Lowest Prices, Fastest Service and Fully Guaranteed"
Something I learned from George about business: Take care of your customers. Find them the part they need even if you have to buy from a different source at a higher price. Just keep them happy and they will keep coming back.—Rody Roland, Gear Squad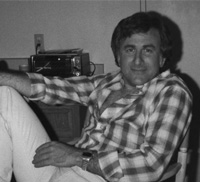 In 1961, George Adler accepted a job as the sole full-time employee of a new company, Transamerican Auto Parts. The business had a humble start, selling replacement Jeep parts to small off-road shops and Jeep dealerships. These businesses were serving the needs of Jeep owners who were just starting to use their Jeeps in the great American outdoors.
Once the phone began to ring, it was George who answered and filled the orders. When a customer needed parts faster than standard shipping would allow, George delivered the order himself. For one customer, he drove overnight from Los Angeles to Oakland to ensure the parts arrived on time. Soon enough, George's customer service instinct had earned the loyalty and respect of Jeep dealers throughout California.
George, sensing opportunity, bought into the company with his father in-law for $5,000. This investment decision would prove to be a great one.
1964 The Catalog Business

In 1964, George tackled the catalog business after seeing a Sears Jeep parts catalog. The first Transamerican Auto Parts catalog was developed and assembled on the family kitchen table. The catalog generated some early signs of success, so George forged ahead with his mail order business by running his first advertisement in Four Wheeler magazine. At this point, George was going after a new customer, the end user. To position the company better for that segment, George changed the name to 4 Wheel Parts Wholesalers. He also expanded the product offering to include parts for other 4×4 trucks, like the Chevy Blazer and Ford Bronco.
1976 Two Retail Storefronts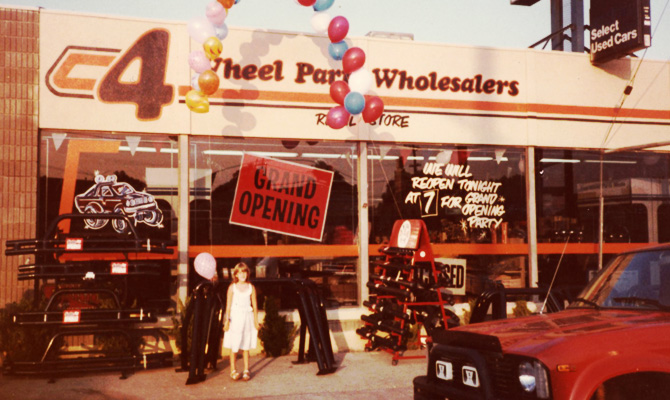 I first met George in the early/mid '70s. I don't remember the exact year, we were young and things were moving pretty fast. Transamerican/4 Wheel Parts was located near LAX airport. The neighborhood was not exactly upscale. When I went there, which was usually after dark, I parked as close to the building as possible and ran for the front door.—Hike Pollem, Industry veteran
In the 1970s, George raised the stakes even higher by pursuing a retail storefront strategy. The lean-and-mean, one-man show was officially a thing of the past. Under George's direction, 4 Wheel Parts was signing leases, hiring employees, and investing in inventories for two retail stores. Opening the second 4Wheel Parts location in Oakland, California was a major step for the company. Failure would have meant a significant change in the company's future. However, George's determination and instinct would lead to success. Along the way, many great employees helped these locations succeed, including Ruth Eidel, Tim Retallick, and Ripper Gledhill — who still serves TAP today as the Director of Store Operations.
1982 Five Retail Storefronts
George is a real car guy — specifically off-road car guy. Doesn't need a Frost & Sullivan report or big committee to fill him in on the roots, reasons and passion for all things motorized. Lives it and breaths it, which must have so much to do with the company's success and ability to move faster than the competition.—Jim Chick, Bestop, Inc.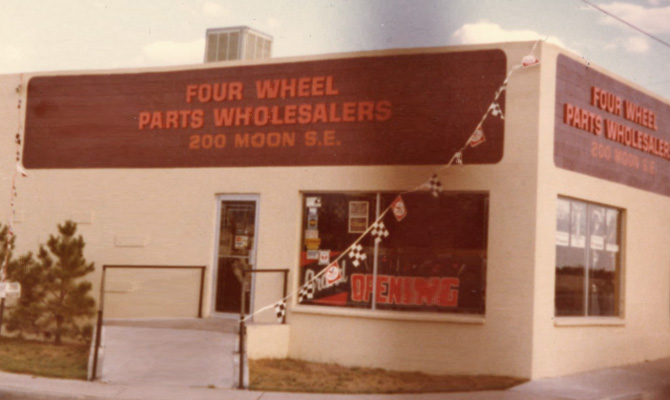 By 1982, George had grown the retail presence to five stores, four in California (Oakland, Gardena, Oxnard, and Van Nuys) and one in Hawaii. 4 Wheel Parts was now a legitimate retail player in the growing off-road parts business.
Because George was an intuitive genius regarding proper inventory investment, our first stop was always the warehouse to check out the inventory on hand.—Tim Mongi, Transamerican Auto Parts
During this time, the company was also increasing its product offering and inventory base. Aggressive inventory growth was risky, but George made it pay off with his knack for identifying trends early and being diligent about carrying only the highest quality products.
1985-2000 Manufacturing & E-Commerce Start-Up
1988 Pro Comp Manufacturing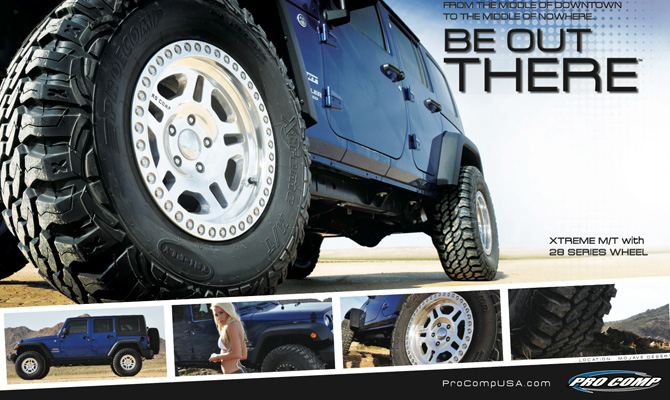 Lessons learned from George: "Learn on my time, not on my money." "Don't tell me your ideas, do your ideas." "We don't want to be the biggest, we want to be the best!" "To be the best, we need the best people."—Rich Botello, Pro Comp USA
In 1988, George tackled the challenge of vertical expansion, launching a manufacturing business called Pro Comp. Pro Comp initially produced off-road lighting under the brand name Explorer. At the time, KC HiLiTES was the popular brand, but the ever-aggressive George Adler wanted his own brand. With help from Pete Brown at KC HiLiTES, this vision became a reality.
Lights would serve as a launching pad for many great Pro Comp products to come. Shocks were next, followed by suspension systems. This was another huge gamble for the company, but one which would prove instrumental in the continued growth of the business. Today, Pro Comp is a recognized leader in off-road suspension.
1998 Florida Retailing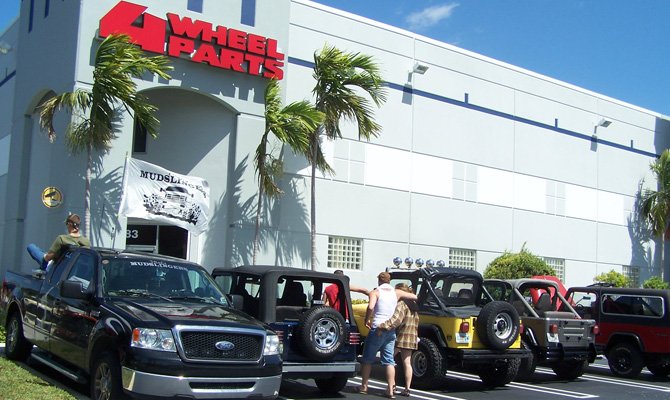 4 Wheel Parts became a nationwide retailer in 1998 with the opening of the Orlando store. Today, 4 Wheel Parts operates five retail stores in Florida.
1998 Manufacturing Tires and Wheels
The most important business knowledge that I got from George was urgency. Whether it is a sale, a customer service issue, a cost-saving plan or anything important, it is imperative that we should approach it with a strong sense of urgency. This thinking keeps business priorities in proper order.–Tim Mongi, Transamerican Auto Parts
George seized opportunity again by launching Pro Comp tires in 1998. The trigger was the closure of a competing manufacturer that was prominent in the tires segment. Nothing motivated George Adler like a hole in the market. But to make the move, he had to commit to buying 36,000 tires upfront in the first year. He of course had no sales history to gage the potential success of this new venture.
George was fearless once again. He put in his initial order and sold twice that number by year-end. The quick success of Pro Comp tires resulted in part from the leadership of Scotty Ward, a long-time company manager. This was another example of George identifying talent within the company, and then giving that individual the opportunity to succeed.
Pro Comp soon followed up on its successful tires business by launching wheels.
1999 New Channels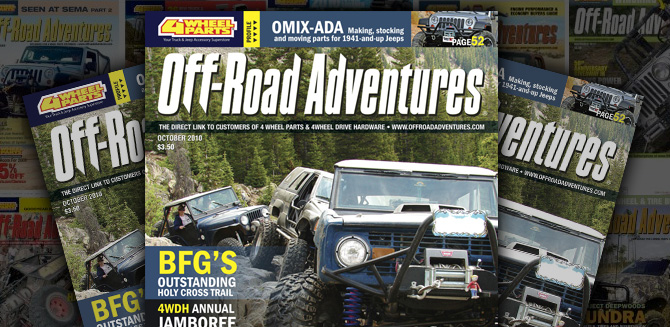 Thirty-eight years after the inception of Transamerican/4 Wheel Parts, George was still driving loyalty in the same manner he always had — by finding new ways to support his customers. In 1999, this support came in the forms of new print and digital content. Lifestyle magazine Off-Road Adventures produced its first edition and e-commerce site 4WheelParts.com flickered to life with a few thousand SKUs. It was 1999, the year Napster shook up the music industry by using the Internet to enable file sharing. 4WheelParts.com didn't generate the buzz Napster did, but the site did give more consumers access to the off-road parts and equipment they needed.
Today, the magazine continues to mail over 3 million copies annually, and serves as the company's central marketing initiative. The Internet also proved to have staying power, and e-commerce remains a large part of the 4 Wheel Parts machine.
2000-2011 Expansion through Acquisition & New Media
2001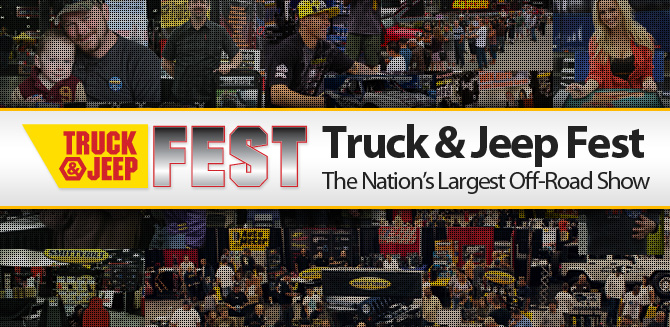 Transamerican continues its innovative support of the off-road lifestyle by establishing a new concept called Truck and Jeep Fest. Truck and Jeep Fest is a convention-style show featuring manufacturer exhibits, themed activities, and exclusive pricing. Truck and Jeep Fest has become enormously popular with off-roaders and off-road manufacturers. Ten years later, Truck and Jeep Fest is the largest show of its kind and a mainstay in the industry. The show travels to nearly a dozen cities around the country each year.
2003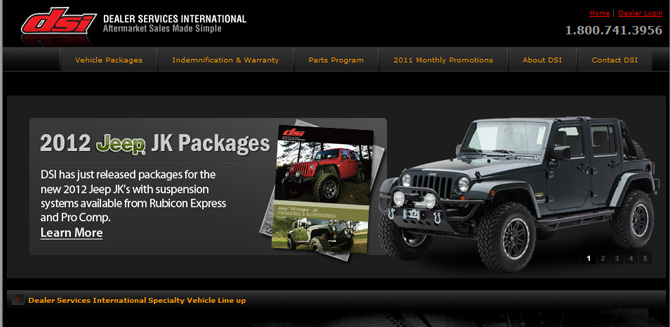 Transamerican launches Dealer Services, International (DSI). DSI leverages Transamerican's established distribution network and scale to provide aftermarket products and services to auto dealerships.
2005
4WP, from top to bottom, has been a first-rate operation to deal with. They are tough negotiators, yet understand that both parties must make a dollar. There is not enough room in this article to list what I have gleaned from George, Greg and their team.—Bret Lovett, Superlift Suspension Systems
By this time, George and a hand-picked team of leaders had built an off-road empire. Transamerican Auto Parts was the nation's largest retailer of 4-wheel-drive parts and accessories. The company managed a nationwide chain of retail stores, a complex inventory and distribution system, a manufacturing business, a thriving e-commerce site, a catalog business, a call center, and a magazine. The culture throughout the organization reflected George's opportunistic and passionate style.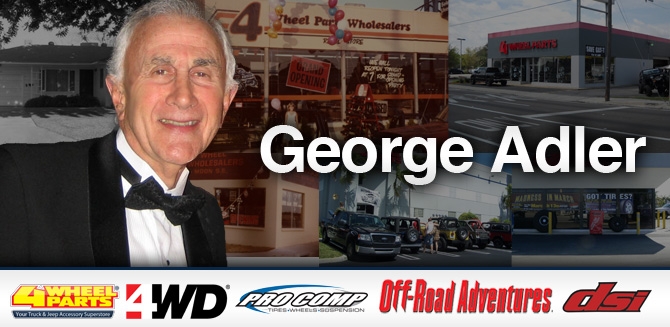 George retired in 2005, selling Transamerican Auto Parts to a Private Equity Group. The rest of the Transamerican management team, including George's son Greg Adler, stayed on to run the company.
2006
4 Wheel Parts was all about growing with stable companies that could back up their products, warranties, and pledges.—Jim Chick, Bestop, Inc.
Under Greg Adler's leadership, Transamerican strengthened its reach within the Jeep segment by acquiring leading Jeep parts cataloger, 4Wheel Drive Hardware (4WD) from a private equity firm. The 4WD acquisition also included Performance Products, which had been purchased by 4WD in 2003. At the time of the acquisition, 4WD and Performance Products held significant market share positions in aftermarket parts for Jeep, Toyota truck, Porsche, and Mercedes.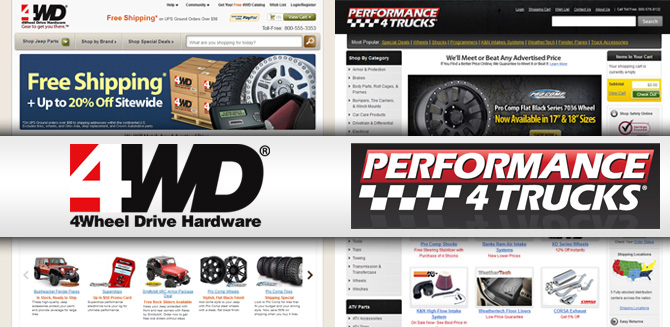 2007
We will continue to grow our company with the same passion my father had when he started Transamerican so many years ago. Our future success is determined by developing exciting new products, adding new store locations, creating innovative websites, and making smart acquisitions.—Greg Adler, Transamerican Auto Parts
Greg continued aggressive expansion by acquiring Smittybilt, an established manufacturer of Jeep and truck parts and accessories. The move gave Transamerican a sizeable footprint in the manufacturing and wholesale segments of the aftermarket for off-road products.
2009
Understanding the importance of the online community, Greg built an Internet team so Transamerican could expand its online presence through site improvements and social media activity, including:
Launch of social media profiles for 4 Wheel Parts and 4Wheel Drive Hardware on Facebook, Twitter, and YouTube
Acquisition and re-launch of GoWarn.com, a leading online retailer of WARN products
Launch of 4WDJeepGiveaway.com
The ownership of the Transamerican changed. The new owners became a consortium of Financial Institutions and the Senior Management team.
2011
Transamerican celebrates 50 years in business, while continuing to strengthen its position. Greg Adler pursues the expansion strategy started by George half a century earlier, through strategic acquisitions and innovative websites. 2011 accomplishments include:
Launch of iShop4WD.com featuring user-generated content
Launch of Truck & Jeep Fest to the Hawaii market
Acquisition and re-launch of suspension manufacturer Rubicon Express
Stay tuned for more Transamerican milestones to come!
2016
October 12, 2016 – Global powersports leader, Polaris Industries Inc., announces the acquisition of Transamerican Auto Parts. Transmamerican continues to operate as a distinctive business unit reporting to Polaris PG&A President, Steve Eastman.