Transamerican Auto Parts has selected a winner in the inaugural "Life is Better Off-Road™" SEMA vehicle build competition. The CC Legend Jeep by Addictive Desert Designs was named as the best presented, truly off-road capable truck, Jeep or SUV on display at the show by a panel of experts in a ceremony hosted at the Pro Comp/Transamerican Auto Parts booth at the annual SEMA automotive aftermarket industry trade show in Las Vegas, Nevada. The winning entry was revealed Thursday, November 5 at the event hosted by NBC Motorsports personality and host of History Channel's Top Gear USA, Rutledge Wood.
"The CC Legend Jeep exemplifies what we envisioned when we initially conceived the Life is Better Off-Road Award," said Transamerican Auto Parts President and CEO Greg Adler. "The entries we received set the benchmark in bringing off-road concepts to life with their winning combinations of form and function, well thought out design and execution while demonstrating the use of aftermarket parts and their impressive off-road capabilities."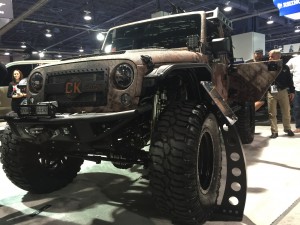 The Chris Kyle "The Legend" JK was built for the Chris Kyle Frog Foundation to raise funds to benefit soldiers and EMS personnel with PTSD. The winning JK will be auctioned off next year for the foundation in an effort to continue to support those in need. Complete Customs of McKinney, Texas built the Chris Kyle "The Legend" Jeep JK to honor Chris and his beliefs and replica models will be built and offered to the general public starting in 2016.
The CC Legend build list includes:
Addictive Desert Designs Venom Jeep JK Front & Rear Bumpers
Rock Krawler 5.5-inch Trail Gunner Suspension
Interco 40-inch Super Swamper M16 Tires
Rigid Industries LED Lighting
The elite panel of judges featured off-road luminaries including Ultra 4 champion and recent Off-Road Hall of Fame Inductee, Shannon Campbell, action sports pioneer and off-road race champion, Brian Deegan, renowned trophy truck builder Rick Geiser and scion of the well-known Currie Enterprises, Casey Currie. Rounding out the experts were Sean P. Holman, Content Director for the Truck Trend Network and Craig Perronne, Editor and Publisher for 4 Wheel Parts' Off-Road Adventures magazine.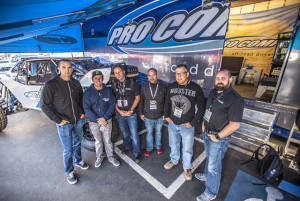 10 semi-finalists were chosen from submitted entries based on criteria like off-road reliability and capability, real-world functionality, quality of craftsmanship and overall vehicle presentation. From those contenders, one truck/SUV and one Jeep were selected as finalists competing to be awarded as the most authentic off-road-capable vehicle at the 2015 SEMA Show.
The CC Legend will receive a cover feature and multi-page vehicle spotlight in ORA Magazine and a professional photo shoot. Additionally, the Addictive Desert Designs vehicle will be recognized across the spectrum of Transamerican social media and digital channels, including a promotional email campaign, an invitation to be displayed in feature locations at TAP-sponsored events, tradeshows, Truck & Jeep Fests, along with the benefits of extensive partner media coverage of the award. The semi-finalists will also be included in the full media campaign and receive ribbons in recognition of their accomplishment.
Life is Better Off-Road™
There are those among us who believe that pursuing life off-road means rock crawling, trail running, and mud bogging, or maybe storming across the open desert at speed. We agree. Setting off to conquer the earth is why you built your ultimate truck or Jeep. To others, the ultimate adventure is finding the wave, hiking a new trail, kayaking down a roaring river or skiing the impossible run. Your adventure could be loading the family into your truck and heading out to camp under the stars, pulling your boat to a lake, or carrying your dirt bike to a remote trail. Whatever your adventure, make the journey as exciting as the destination. Get outside. Explore, unplug, play in the dirt and go further. Because Life is Better Off-Road.™
About Transamerican Auto Parts: Transamerican Auto Parts is the world's leading manufacturer, wholesaler, and retailer of aftermarket parts and accessories for trucks, Jeeps and SUVs. Transamerican operations are comprised of 72 4 Wheel Parts retail locations in North America, Transamerican Wholesale sales and distribution, Dealer Services International and the Transamerican Manufacturing Group which includes Smittybilt, Rubicon Express, G2 Axle & Gear, Pro Comp, LRG Wheels and Poison Spyder Customs. We Sell It. We Own It. We Live It. For more information about Transamerican Auto Parts, Dealer Services International and Transamerican Manufacturing Group, please visit: transamericanautoparts.com