Browsing articles tagged with "daystar | Transamerican Auto Parts"
Compton, California (November 3, 2016) – Transamerican Auto Parts has named the winner in its second annual "Life is Better Off-Road™" SEMA vehicle build competition held at the 2016 SEMA automotive aftermarket industry trade show in Las Vegas, Nevada. This year's best presented, truly off-road capable truck, Jeep or SUV on display at the show was the Daystar Products' 1941 Dodge Powerwagon "Bootlegger," as deemed by a panel of off-road industry experts in a ceremony held at the Pro Comp/Transamerican Auto Parts SEMA Show booth.
The winning entry was revealed today at the event hosted by legendary Motocross, Supercross and off-road racing champion, Ricky Johnson. The panel of judges featured some of the most distinguished names in off-road vehicle engineering and development, fabrication, journalism and motorsports.
"The Bootlegger captures the essence of the Life is Better Off-Road Award for its on and off-road capabilities and customized update of the vintage vehicles associated with bootlegging," said Transamerican Auto Parts President and CEO Greg Adler. "The powerwagon took the bootlegger theme and ran with it and the creative use of aftermarket parts impressed us with a nod to history and a keen eye for design."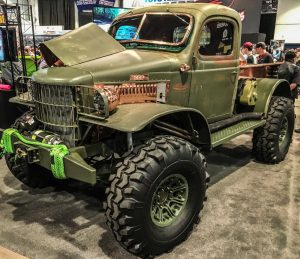 Mark Turner of Daystar Products wanted to employ a bootlegger theme throughout the build and chose copper because it was the prime metal commonly used to make bootlegger stills. The engine sports a copper radiator hose and copper air intake while the firewall was changed to copper then covered with dynamite. Bootlegging's roots are intertwined with NASCAR mythology and moonshine-running vehicles were made to look stock while their inner workings included supercharged engines and weighty shocks and springs to prevent sag as they transported Mason jars full of liquor.
The powerwagon's supercharged power, racing transmission, custom driveshafts and longer leaf springs made it stand out as supremely off-road capable in a field of remarkable entries ranging from Rubicons to Titan XDs. Completed in 50 days, the Bootlegger was driven to Tennessee for Whiskey & Wheeling with Xtreme Off-Road Adventure then shipped to Alaska for wheeling where it was driven on a glacier.
The Bootlegger's build list includes:
Edelbrock LS3 6.2L Supercharged Engine
Daystar Products Engine and Transmission Mounts
G2 Axle & Gear Gears
Optima Batteries
Skyjacker Leaf Springs
Interco Super Swamper Tires
The select panel of judges featured off-road icons and personalities including short course off-road racing Pro Lite and Pro 2 Division champion Brian Deegan, DIY fabricator and racer Bill Caswell, celebrated Trophy Truck developer and builder Rick Geiser, Content Director for the Truck Trend Network Sean P. Holman and Editor and Publisher for 4 Wheel Parts' Off-Road Adventures magazine Craig Perronne.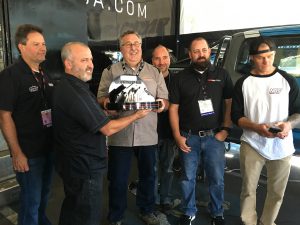 Entries were submitted up until just days before the SEMA Show began and 10 semi-finalists were selected based on criteria such as off-road reliability and capability, quality of craftsmanship, real-world functionality and overall vehicle presentation. From this field, one truck/SUV and one Jeep were chosen as finalists competing to be awarded as the most authentic off-road-capable vehicle at the 2016 SEMA Show.
The 10 Semi-Finalists were:
Daystar Products Dodge Powerwagon Bootlegger
Fab Fours Chevrolet Colorado Kymera
Westin Snyper 2-Door JK
Hellwig Titan XD
PIAA JK Unlimited
High Country Complete Customs
Addictive Desert Designs Springfield Armory Ford F-150
Addictive Desert Designs Titan XD
BruiserConversions JK
Truck Guru Chevrolet Colorado Long Travel
The Bootlegger will receive a professional photo shoot and a cover feature and multi-page vehicle spotlight in ORA Magazine. Additionally, the Daystar Products vehicle will be recognized across the spectrum of Transamerican social media and digital channels, including a promotional email campaign, an invitation to be displayed in feature locations at TAP-sponsored events, tradeshows, Truck & Jeep Fests, along with the benefits of extensive partner media coverage of the award. The semi-finalists will also be included in the full media campaign and receive ribbons in recognition of their accomplishment.
Life is Better Off-Road™
There are those among us who believe that pursuing life off-road means rock crawling, trail running, and mud bogging, or maybe storming across the open desert at speed. We agree. Setting off to conquer the earth is why you built your ultimate truck or Jeep. To others, the ultimate adventure is finding the wave, hiking a new trail, kayaking down a roaring river or skiing the impossible run. Your adventure could be loading the family into your truck and heading out to camp under the stars, pulling your boat to a lake, or carrying your dirt bike to a remote trail. Whatever your adventure, make the journey as exciting as the destination. Get outside. Explore, unplug, play in the dirt and go further. Because Life is Better Off-Road.™
About Transamerican Auto Parts: Transamerican Auto Parts is the world's leading manufacturer, wholesaler, and retailer of aftermarket parts and accessories for trucks, Jeeps, SUVs and four wheel drive vehicles. Transamerican operations are comprised of 75 4 Wheel Parts retail locations in North America, Transamerican Wholesale sales and distribution, Dealer Services International and the Transamerican Manufacturing Group which includes Smittybilt, Rubicon Express, G2 Axle & Gear, Pro Comp, LRG Wheels and Poison Spyder. We Sell It. We Own It. We Live It. For more information about Transamerican Auto Parts, Dealer Services International and Transamerican Manufacturing Group, please visit: transamericanautoparts.com.
For Immediate Release
Compton, California (April 9, 2015) – Today it was announced that Daystar Products, a leading manufacturer of suspension components and polyurethane products for cars, trucks, and SUVs, has returned as a key sponsor of Greg Adler Motorsports and the Team 4 Wheel Parts off-road racing team. While serving as President and CEO of off-road aftermarket retailer, 4 Wheel Parts, Adler competes in the elite Pro 4 division for 900 HP, purpose-built, four-wheel drive trucks in the Lucas Oil Off Road Racing Series.
In addition to their sponsorship of Adler's competitive off-road pursuits, Daystar has maintained a strong connection to Adler and 4 Wheel Parts since 1994 as a key supplier of suspension, truck and Jeep accessories to their retail outlets.
"Daystar is once again, proud to be part of The Greg Adler Motorsports Team and we are looking forward to a great 2015 race season," said Daystar CEO, Mark Turner. "All of us at Daystar are passionate about the sport of off-roading. Our relationship with Greg Adler Motorsports and his involvement in the Lucas Oil Off Road Series has been a win-win for all of us and we are happy to be back for another season. We wish Greg and his team the best of luck during this 2015 race season."
Complementing his position at the helm of the world's largest retailer and distributor of off-road aftermarket and performance products with competing in the high-intensity arena of short course off-road racing, Adler has developed partnerships with an impressive roster of corporations who utilize the sport to reach potential customers.
"It takes great partners like Daystar to go racing," stated Adler. "Over the last 20 years, we have built a relationship with Mark and our friends at Daystar that extends well beyond their great products in our stores. We are proud to have them alongside the team as we race to return the Pro 4 to the podium this season."
The 2015 18-round Lucas Oil Off Road Racing Series season visits California, Arizona, Nevada, Utah, and for the first time ever, Ensenada, Mexico.  Follow all the Greg Adler Motorsports action at Team4WheelParts.com. Lucas Oil Off Road Racing action is broadcast throughout the season on CBS, the CBS Sports Network and MAVTV.
Greg Adler Motorsports is Supported by:
4 Wheel Parts · Pro Comp Tires · ODYSSEY Battery · MagnaFlow Exhaust · AMP Research / AVS  ·  Lund · Red Kap · Daystar Products · G2 Axle & Gear · Bushwacker · Makita Industrial Power Tools · Mastercraft Safety · Fox Racing Shox · K&N Filters · Fiberwerx · GoPro
About Daystar Products:
Daystar Products is a leading manufacturer of suspension components and polyurethane products for cars, trucks, and SUVs.  Daystar's extensive product line includes over 400 Lift & Leveling Kits, high-performance Bushing Kits, Motor & Transmission Mounts, Scorpion Shock Absorbers, Winch Accessories, unique interior Dash & Switch Panels, and much more.  Daystar Products was established in 1977 and has always been family owned and operated.  All of Daystar's Products are proudly manufactured in the USA.  For more information on Daystar Products, see www.daystarweb.com.
About 4 Wheel Parts: 
4 Wheel Parts is the global leader in off-road truck, Jeep and aftermarket performance products. With 69 locations across the U.S. and Canada and growing, 4 Wheel Parts Service Centers install all the products we sell. Maintaining the nation's largest inventory of off-road tires, wheels, lift kits, and accessories, 4 Wheel Parts serves customers across the country and around the globe. Life is Better Off-Road™. Visit us at 4wheelparts.com or call toll-free 877-474-4821.