Compton, California (Sept 26, 2016) – Transamerican Auto Parts is proud to announce the 2016 renewal of the "Life is Better Off-Road™" SEMA builder award. After a tremendously successful launch last year at the 2015 SEMA Show in Las Vegas, Nevada, the "Life is Better Off-Road™" award has established itself as the premier industry prize awarded by Transamerican Auto Parts to the best presented, truly off-road capable truck, Jeep or SUV on display at the show.
"With the off-road performance aftermarket category firmly entrenched into the landscape at SEMA, the Transamerican Auto Parts "Life is Better Off-Road™" award uniquely recognizes the technical achievements and engineering advancements exclusive to the development of aftermarket products for off-road trucks, Jeeps and SUVs," said Transamerican Auto Parts President and CEO, Greg Adler. "It's an honor for us to recognize the individuals responsible for these incredible, off-road capable builds."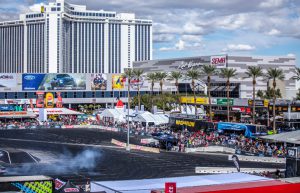 The Award's inaugural winner, The CC Legend Jeep by Addictive Desert Designs, was chosen from among hundreds of submissions by the carefully selected panel of leading industry authorities at the 2015 SEMA show in a ceremony hosted by television personality and noted automotive enthusiast Rutledge Wood. This year's panel of judges will once again represent a broad section of the off-road industry to include fabricators, journalists, industry personalities and professional off-road racers.
The award is open to all off-road vehicle constructors and product manufacturers on display at the SEMA show and will once again be judged by an elite panel of the off-road industry's leading authorities who select 10 semi-finalists from among the submitted entries based on such criteria as off-road reliability and capability, real-world functionality, quality of craftsmanship and overall vehicle presentation. The panel will then choose one Jeep and one truck/SUV as the two finalists to be considered for recognition as the most authentic, off-road-capable vehicle at the SEMA Show.
The award, a custom designed trophy, will be presented by Transamerican Auto Parts President and CEO, Greg Adler, at 2 p.m. on Thursday, November 3 at the Pro Comp/Transamerican Auto Parts Booth #62112 within the SEMA SCORE Baja 1000 Experience Area (Located outside of the South Hall in the Silver Lot).
In addition to the trophy itself, the winner will receive a cover feature and multi-page vehicle spotlight in ORA Magazine, a professional photo shoot and recognition across the spectrum of Transamerican social media and digital channels. A promotional email campaign will highlight the award and winners and TAP will extend an invitation to be displayed in feature locations at TAP-sponsored events, tradeshows and Truck & Jeep Fests. The 10 semi-finalists will also be included in the full media campaign as well as receiving ribbons in recognition of the accomplishment.
To submit your off-road SEMA display vehicle for award consideration, please visit www.transamericanautoparts.com/award.There you may complete your entry on-line or download the PDF application that may be completed and emailed to [email protected] .
For more information, complete rules, terms and conditions for the Transamerican Auto Parts "Life is Better Off-Road™" SEMA builder award please visit www.transamericanautoparts.com/award or email questions to [email protected]
Life is Better Off-Road™
There are those among us who believe that pursuing life off-road means rock crawling, trail running, and mud bogging, or maybe storming across the open desert at speed. We agree. Setting off to conquer the earth is why you built your ultimate truck or Jeep. To others, the ultimate adventure is finding the wave, hiking a new trail, kayaking down a roaring river or skiing the impossible run. Your adventure could be loading the family into your truck and heading out to camp under the stars, pulling your boat to a lake, or carrying your dirt bike to a remote trail. Whatever your adventure, make the journey as exciting as the destination. Get outside. Explore, unplug, play in the dirt and go further. Because Life is Better Off-Road.™
About Transamerican Auto Parts: Transamerican Auto Parts is the world's leading manufacturer, wholesaler, and retailer of aftermarket parts and accessories for trucks, Jeeps, SUVs and four wheel drive vehicles. Transamerican operations are comprised of 75 4 Wheel Parts retail locations in North America, Transamerican Wholesale sales and distribution, Dealer Services International and the Transamerican Manufacturing Group which includes Smittybilt, Rubicon Express, G2 Axle & Gear, Pro Comp, LRG Wheels and Poison Spyder. We Sell It. We Own It. We Live It. For more information about Transamerican Auto Parts, Dealer Services International and Transamerican Manufacturing Group, please visit: transamericanautoparts.com.