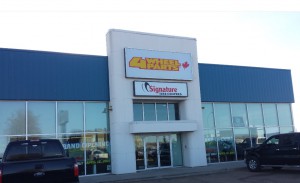 4 Wheel Parts' newest location held a Grand Opening Celebration at its Red Deer, Canada store on April 12. It's the fifth 4 Wheel Parts Canadian location and was previously the site of Canada Custom Vehicles.
"We had a big garage sale that had products like used tires and accessories  left over from the previous tenants," says 4 Wheel Parts Red Deer store manager Brad Gilbert. There were hourly onsite giveaways and exclusive installation deals, and attendees were treated to free barbecue.
The Alberta Red Deer store is a little over an hour and a half drive south of Edmonton and joins the 4 Wheel Parts fleet of Canadian locations with others in Montreal, Calgary, Burlington, and Fredericton.
Technicians at the opening performed installations for customers and offered consulting advice. The cutting edge 4 Wheel Parts store has an online Google virtual tour of its brand new showroom where users online can navigate the premises virtually to view high res images of off-road truck and Jeep parts.