Compton, California (October 7, 2015) – Transamerican Auto Parts will further its major expansion initiative with the Grand Opening of its Post Falls, Idaho 4 Wheel Parts retail store and adjacent distribution center this Saturday, October 10. The event marks the growing presence of the national truck and Jeep performance product reseller into the Pacific Northwest while providing an increased level of service and delivery to customers in the region. 4 Wheel Parts is pleased to welcome area off-road enthusiasts to the family-friendly event, who will be greeted with installation specials, hourly prize drawings, aftermarket parts giveaways and tours of the newest, state-of-the-art facility.
The free event provides enthusiasts a preview of the latest truck and Jeep products from the industry's leading manufacturers including Smittybilt, Poison Spyder and Bestop. Customers will have the opportunity to engage with the 4 Wheel Parts store's interactive showroom featuring a comprehensive array of suspension, wheels, tires, lighting products and more.
Through the support of state and local leaders, Transamerican Auto Parts' (TAP) new facilities deliver immediate economic benefits to the region in addition to career-focused automotive industry employment with full benefits promising to contribute substantially to job growth and opportunities in the Coeur d'Alene metropolitan area.
"We're grateful for the investment made by Transamerican Auto Parts to create quality jobs and benefit our local community," said Patty Shea, Chair of Jobs Plus, Inc. "Together, we have created a collaborative partnership between The City of Post Falls, Idaho Department of Labor, Jobs Plus, Jacklin Land Company, and Transamerican Auto Parts and we will support this endeavor to ensure the company's continued success."
The expansion gives TAP enhanced capacity by extending regional reach and supply with increased inventory levels. The 75,000 sq. ft. warehouse distribution center will supply the Pacific Northwest and western Canada and the 10,000 sq. ft. store will meet a growing local demand for off-road performance product sales and installation. This strategic move hastens the company's growth and ensures a rapid, uninterrupted supply of parts and accessories to 4 Wheel Parts stores.
"It's exciting to see public and private, state and local folks working together in a common purpose – better jobs and opportunities for Idaho citizens," Governor C.L. "Butch" Otter said. "Companies like Transamerican Auto Parts aren't just investing in their own business; they're also investing in this community and the people of northern Idaho."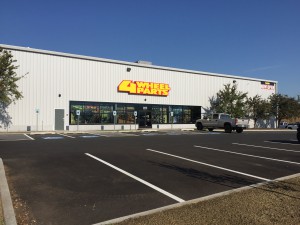 4 Wheel Parts continues to grow its retail operations which recently opened new locations in Little Rock, Arkansas, Baton Rouge, Louisiana, and Langley, British Columbia, to bring the total of stores to 71 across North America.
The location of the new facility in Post Falls diversifies TAP's six distribution centers throughout the country. Transamerican Auto Parts and 4 Wheel Parts retail and wholesale customers across the Pacific Northwest and western Canada will immediately realize the benefits of reduced freight costs, more economic delivery and in many cases next day pick-up of the majority of product segments in retail stores.
"Idaho and Post Falls provides us with a business friendly environment in which to expand our presence in the Pacific Northwest," said TAP President and CEO, Greg Adler. "We now have a strategic location that gives us a foundation from which we will be able to better serve our customers throughout this region and into western Canada."
What: 4 Wheel Parts Post Falls Store Grand Opening Celebration
When: Saturday, October 10 from 9 a.m. –  5 p.m.
Location:
5405 W. River Bend Ave. Suite 101
Post Falls, Idaho 83854
208-618-4501
About Jobs Plus, Inc.:
Jobs Plus, Inc. is an economic development nonprofit established in 1987. The mission of Jobs Plus is to expand and diversify the economic and employment base of Kootenai County while maintaining the quality of life synonymous with Kootenai County. The focus of Jobs Plus is to retain quality companies already operating in Kootenai County, and to recruit companies to our area that sell on a national or international basis, are not location dependent, offer strong wages and benefits, and are respectful of our environmental concerns. To learn more about Jobs Plus, Inc. visit relocatetoidaho.org or contact our office
About 4 Wheel Parts
4 Wheel Parts is the global leader in truck, Jeep, SUV and off-road performance products. With 71 locations across the U.S. and Canada and growing, 4 Wheel Parts Service Centers install all the products they sell. Maintaining the nation's largest inventory of off-road tires, wheels, lift kits, and Jeep Wrangler accessories, 4 Wheel Parts serves customers across the country and around the globe. Life is Better Off-Road™. Visit them at 4wheelparts.com or call toll-free 877-474-4821.
About Transamerican Auto Parts: Transamerican Auto Parts is the world's leading manufacturer, wholesaler, and retailer of aftermarket parts and accessories for trucks, Jeeps, SUVs and four wheel drive vehicles. Transamerican operations are comprised of 71 4 Wheel Parts retail locations in North America, Transamerican Wholesale sales and distribution, Dealer Services International and the Transamerican Manufacturing Group which includes Smittybilt, Rubicon Express, G2 Axle & Gear, Pro Comp, LRG Wheels and Poison Spyder Customs. We Sell It. We Own It. We Live It. For more information about Transamerican Auto Parts, Dealer Services International and Transamerican Manufacturing Group, please visit: transamericanautoparts.com