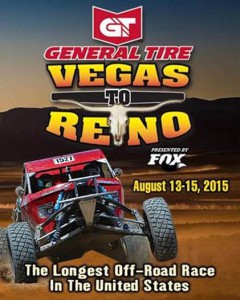 For Immediate Release
Compton, California (August 12, 2015) – This weekend marks the 19th edition of the "Longest off-road race in the United States" and Team 4 Wheel Parts, in partnership with General Tire, will be challenging the grueling 545-mile course in the #1717 JeepSpeed XJ, with a pair of distinctive co-drivers making their off-road racing debut.
The Best in the Desert "General Tire Vegas to Reno" race will see more than 300 entries from across the country and around the world take on the Nevada desert on a punishing course as they traverse the Silver State. Among them will be 4 Wheel Parts' salesmen, Victor Rosales Jr. from the Chula Vista location and Ronald Sims, traveling to Nevada all the way from the 4 Wheel Parts Hawaii store, who will be sharing time in the navigator's seat courtesy of General Tire as Team 4 Wheel Parts' Dylan Cochran pilots the #1717. Victor and Ronald stood head and shoulders above their 4 Wheel Parts peers in the sales of General Grabber tires and now they have the chance to race on those identical tires in the Best in the Desert Series' signature event.
"It is an honor to receive the support of General Tire for this program," said Cochran. "This is a tremendous opportunity for these guys to come out from behind the 4 Wheel Parts counter and into the grueling environment where we put our General Tires to the test."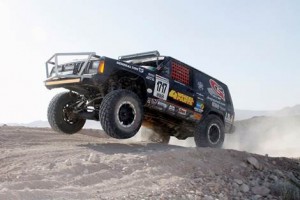 The Best in the Desert "General Tire Vegas to Reno" race kicks off early on Friday, August 14 in Beatty, Nevada, about 100 miles north of Las Vegas and continues to the finish line at the Nevada Event Center in Dayton, just south of Reno. In addition to the #1717 challenging in the Jeepspeed class, entrants in America's longest off-road race include motorcycles, quads, UTVs, purpose-built buggies and trucks as well as the 7,000 lb. 600HP Trick Trucks tearing across the open desert, all vying for individual class titles as well as the overall victory.
For Rosales and Sims, the event represents their first opportunity to participate in a competitive off-road race. "This is going to be a brutal race but we're setting our sights on a strong finish," said Cochran. "We're looking forward to sharing this memorable experience with Victor and Ronald."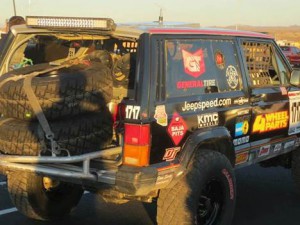 About 4 Wheel Parts: 
4 Wheel Parts is the global leader in off-road truck, Jeep and aftermarket performance products. With 71 locations across the U.S. and Canada and growing, 4 Wheel Parts Service Centers install all the products they sell. Maintaining the nation's largest inventory of off-road tires, wheels, lift kits, and accessories, 4 Wheel Parts serves customers across the country and around the globe. Life is Better Off-Road™. Visit them at 4wheelparts.com or call toll-free 877-474-4821