Browsing articles tagged with " king-of-the-hammers"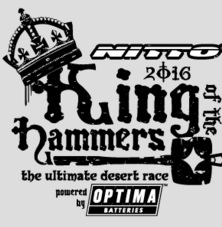 Compton, California (January 11, 2016) – Multiple Transamerican Auto Parts business divisions including off-road retailer 4 Wheel Parts, are returning as official event partners and sponsors for the 10th annual Ultra4 Nitto King of the Hammers in Johnson Valley, California. Transamerican Manufacturing Group (TMG) will sponsor numerous activities and events, including the Smittybilt Every Man Challenge, under the auspices of its numerous off-road and performance aftermarket companies that include Smittybilt, Pro Comp, Rubicon Express and G2 Axle & Gear. The weeklong "Ultimate Desert Race" featuring multiple classes from motorcycles to the high horse powered Unlimited Class 4400 Ultra4 cars runs from January 30 – February 6, and includes 4 Wheel Parts' sponsorship of the Ultra4 qualifying sessions for the 4400 main race and the Smittybilt Every Man Challenge on February 4.
Team 4 Wheel Parts racers Greg Adler, Brent Goegebuer and Kevin Adler are all slated to compete, with Greg Adler and Goegebuer in Friday's 4400 marquee event and Kevin Adler running in the Every Man Challenge. As an official partner, 4 Wheel Parts will have a significant retail presence with their Showroom on Wheels providing parts and services for teams in addition to the tens of thousands of off-road enthusiasts expected to descend upon the region dubbed "Hammertown." Parts and accessories such as tires, tow straps and winches will be available on-site along with expert advice from seasoned off-roaders.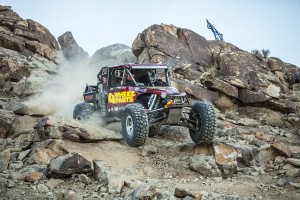 "King of the Hammers continues to provide us with one of the most unique opportunities to engage with our customers right here in our back yard in Southern California," says Greg Adler, who along with competing in the event, serves as President and CEO of TAP. "This has become one of the largest gatherings of off-roaders in the country and while the races themselves are the highlights of the week, the open desert and spectacular trails attract countless wheelers who make the pilgrimage out to Johnson Valley each year for Hammers. We are all looking forward to the 10th anniversary of this incredible event. "
Complementing its sponsorship of the King of the Hammers Stock Class, Pro Comp recently launched its new Tire Racing Program helmed by Kevin Adler, offering racers in various classes the opportunity to benefit from special pricing on select Pro Comp Xtreme MT2 tires. Rubicon Express is also sponsoring Modified division and for the first time, the Legends class will have a sponsor in G2 Axle & Gear.
"We are honored to have lent our support to King of the Hammers from the beginning," says Chloe Eady, TMG Brands Marketing Manager. "We are excited for the numerous promotions we are running at the event along with the services our brands are providing such as free tire mounting from Pro Comp and drivetrain servicing provided by G2. With all of this in addition to Smittybilt's return as the 2016 Every Man Challenge title sponsor, it's going to be quite a week."
The countdown to the 2016 King of the Hammers begins this Tuesday, January 12 as 4 Wheel Parts teams up with Ultra4 Racing to present the drawing for the Smittybilt Every Man at its Compton 4 Wheel Parts location.
About Transamerican Auto Parts: Transamerican Auto Parts is the world's leading manufacturer, wholesaler, and retailer of aftermarket parts and accessories for trucks, Jeeps and SUVs, including off-road tires and wheels and Jeep Wrangler bumpers. Transamerican operations are comprised of 72 4 Wheel Parts retail locations in North America, Transamerican Wholesale sales and distribution, Dealer Services International and the Transamerican Manufacturing Group which includes Smittybilt, Rubicon Express, G2 Axle & Gear, Pro Comp, LRG Wheels and Poison Spyder Customs. We Sell It. We Own It. We Live It. For more information about Transamerican Auto Parts, Dealer Services International and Transamerican Manufacturing Group, please visit: transamericanautoparts.com.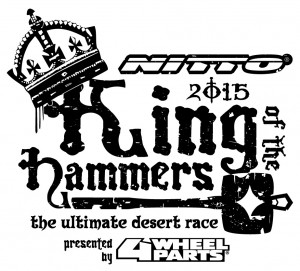 For Immediate Release
Compton, California (January 27, 2015) – An agreement has been finalized between Transamerican Auto Parts (TAP) and Hammerking Productions that names TAP subsidiary, 4 Wheel Parts, the global leader in truck and Jeep aftermarket and performance products and installation, as presenting sponsor of the 2015 King of the Hammers (KOH) event. The alliance enhances Transmerican's existing support of the weeklong event which includes title sponsorship of the Every Man Challenge race by Smittybilt, a division of the Transamerican Manufacturing Group.
This year's 215-mile course spans through Johnson Valley, California, blending technical rock climbing with high-speed desert racing. King of the Hammers is renowned as the most grueling one-day, off-road race in America.
Greg Adler, TAP President and CEO, and competitor in the elite Ultra4 division, recognizes the partnership as a perfect fit for the 4 Wheel Parts brand. "From wheels and tires to suspension components, King of the Hammers provides us with the ultimate proving ground to test the products we sell and install at our stores," said Adler. "While we're also out there competing, this arena is the perfect opportunity for us to showcase our brands while interacting with the true off-road enthusiasts out on the rocks and in the desert. We're proud to elevate our support of the event as it has grown into such a significant race on the calendar."
Helmed by Hammerking Productions President Dave Cole, the King of the Hammers has grown from a small gathering of competitors into a nationally-acclaimed occasion attracting immense crowds flocking to the California desert to watch participants from across the globe scale creatively named obstacles and race purpose-built vehicles across the open terrain.
"When we started this, we had no idea it would grow to this size. It's humbling," said Cole.  We've been very fortunate to have people like Greg Adler and 4 Wheel Parts to build this event alongside us over time. In the beginning Greg and I would talk about the event and he'd give me his insights and now, they are a fantastic partner of ours. We wouldn't be where we are without amazing sponsors and great racers who are bringing in the crowds. Together we are growing King of the Hammers and Ultra4 Racing."
An estimated 60,000 people descended on the Means Dry Lake Bed in Johnson Valley in 2014 for the King of the Hammers. Close to 400,000 viewers took in the off-road action courtesy of live internet broadcast, establishing it as the largest watched off-road racing event in the country.
"There is nothing like it in all of off-road," concluded Adler.
Transamerican Auto Parts. We Sell It. We Own It. We Live It. 
For more information about Transamerican Auto Parts and Transamerican Manufacturing Group, please visit: http://transamericanautoparts.com/
About 4 Wheel Parts 
4 Wheel Parts is the global leader in off-road, Jeep and aftermarket performance products. With 67 locations across the US and Canada and growing, 4 Wheel Parts Service Centers install all the products they sell. With the nation's largest inventory of off road tires, wheels, lift kits and accessories, 4 Wheel Parts serves customers across the country and around the globe. Life is Better Off-Road™.
Visit us at 4wheelparts.com or call toll-free 877-474-4821.