Browsing articles in "Company News"
Compton, California (March 8, 2016) – Las Vegas is geared up for the Polaris Mint 400 off-road race presented by BFGoodrich Tires this weekend and 4 Wheel Parts is revved up for an exciting week of activities as an official sponsor. President and CEO, Greg Adler will represent Team 4 Wheel Parts in the grueling "Great American Off-Road Race" on the outskirts of Sin City as he campaigns his Unlimited Ultra4 car in the competition.
The festivities kick off on Wednesday at 12:45 p.m. with the 4 Wheel Parts Vehicle Parade, as many of the race entrants including Adler's Ultra4, will bring the thunder of over 75,000 horsepower down the famed Las Vegas Strip to Fremont Street. The green flag drops on the race itself on March 12 and features a field of over 350 of desert racing's most prominent competitors.
The Mint 400 has built a reputation for attracting thousands of enthusiasts to Las Vegas to join the hundreds of race participants, creating what has become the greatest spectacle in American off-road racing. For the drivers and teams, the weeklong event culminates in a desert battle where the attrition rate makes merely finishing the first step on the way to capturing one of the many coveted class victories.
For Greg Adler, an experienced desert and short course competitor who raced in the Mint early in his off-road career, this Mint 400 represents his return to the desert as he brings his four-wheel drive Ultra4, purpose-built machine, normally reserved for King of the Hammers duty, to the open desert environment.
"We are proud to be a part of The Mint 400 and its tradition for being a very special event for racers and fans alike," said Adler. "Beyond our support of the weeklong activities, we are looking forward to seeing what we can do in our Ultra4 car. It's a rough course and this car has been built to take on anything that's thrown at it. It's going to be a lot of fun."
4 Wheel Parts is returning to sponsor the Mint 400 Vehicle Parade for the fourth consecutive year. The 4 Wheel Parts Vehicle Parade down the world renowned Las Vegas Strip, will showcase some of the toughest off-road vehicles on the planet with a procession spanning 10 miles. Grand Marshal and off-road legend Rod Hall will lead the immense group of racecars past the Las Vegas crowds eager to catch a glimpse of their favorites.
Time trials will be at 11 a.m. on Thursday, March 10 and teams competing in the Mint 400's Pit Crew Challenge sponsored by Method Race Wheels will have a chance to qualify and contend in the finals on Thursday night at 7:30 p.m. On Saturday, the Limited Race starts at 6 a.m. with the Unlimited class racing at 12:30 p.m. The Awards Brunch at the Golden Nugget Hotel is slated to happen at 11 a.m. Sunday.
About the Mint 400
The Mint 400 began in 1967 and has established itself as a classic 400-mile battle between the world's premier off-road racers. In 1988, after the Mint Hotel was sold, the race took a 20-year sabbatical until 2008 when it was restarted. Actor/director Steve McQueen, astronaut Gordon Cooper and power boat champion Bill Muncey number among the luminaries who have competed in past races.
About 4 Wheel Parts
4 Wheel Parts is the global leader in truck, Jeep, SUV and off-road performance products. With 74 locations across the U.S. and Canada and growing, 4 Wheel Parts Service Centers install all the products they sell. Maintaining the nation's largest inventory of off-road tires, wheels, lift kits and accessories, 4 Wheel Parts serves customers across the country and around the globe. Life is Better Off-Road™. Visit them at 4wheelparts.com or call toll-free 877-474-4821.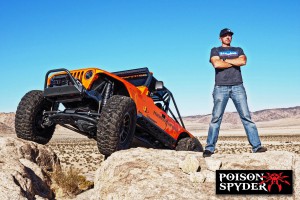 Compton, California (February 16, 2016) – Recently, Larry McRae announced his retirement from Poison Spyder. While building Poison Spyder into an industry leading brand, Larry has been an innovator, establishing himself as an icon and entrenching himself in the off-road aftermarket industry and Jeep culture. Under Larry's stewardship, Poison Spyder has become the benchmark in premium aftermarket Jeep armor while setting a high watermark for quality and brand authenticity. Larry's engagement through the transition of Poison Spyder's acquisition by Transamerican Manufacturing Group has served to ensure that the quality, craftsmanship and faithfulness to the PSC brand has and will remain, while products will continue to be manufactured in the same Banning, California facility.
Although Larry has moved into retirement, Poison Spyder will continue to be guided by the management, production, marketing and sales team that has been the foundation of the company alongside him and will be instrumental to the sustained growth of PSC.  Together with this team, TMG is committed to serving PSC customers with the same level of quality, workmanship and product innovation that they have relied on while preserving and protecting the beloved Poison Spyder brand.
Transamerican Auto Parts and Transamerican Manufacturing Group extends our best wishes to Larry McRae as he now embarks on this next phase of his journey.

Compton, California (February 1, 2016) – Greg Adler, President and CEO of 4 Wheel Parts, the global leader in truck, Jeep, SUV and off-road tires, wheels, lift kits and accessories, goes undercover to meet the employees who keep the company on the right track, on UNDERCOVER BOSS, Friday, Feb. 5 (8:00-9:00 PM, ET/PT) on the CBS Television Network. During his undercover mission, Adler worked alongside employees performing a variety of jobs that represent key aspects of the company's retail sales and distribution operations.
"4 Wheel Parts is in the midst of an aggressive national expansion and going undercover allowed me the opportunity to step out of my role as CEO and into many of the jobs that are the backbone of our company," said Adler. "I learned a great deal about our business from the experience and as a result we have been able to enact many companywide initiatives. Most importantly, going undercover reinforced the importance of family to me and reminded me that as the business grows, we continue to keep the feeling of family that is the legacy of 4 Wheel Parts."
Website: 4wheelparts.com
Twitter: @4wheelparts
Facebook: 4 Wheel Parts
Instagram: 4wheelpartsofficial
UNDERCOVER BOSS, in its seventh season, is a two-time Emmy Award-winning reality series that follows high-level executives as they slip anonymously into the rank-and-file of their own organizations.  Each week, a different leader will sacrifice the comfort of their corner office for an undercover mission to examine the inner workings of their operation.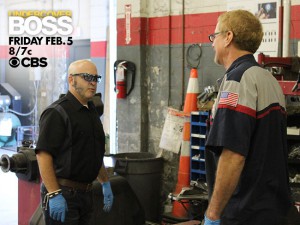 About 4 Wheel Parts:
4 Wheel Parts is the global leader in off-road truck, Jeep and SUV aftermarket performance products. With 72 locations across the U.S. and Canada and growing, 4 Wheel Parts Service Centers install all the products they sell. Maintaining the nation's largest inventory of off-road parts and accessories including all-terrain tires and lift kits, 4 Wheel Parts serves customers across the country and around the globe. Life is Better Off-Road™. Visit them at 4wheelparts.com or call toll-free 877-474-4821.
Life is Better Off-Road™
There are those among us who believe that pursuing life off-road means rock crawling, trail running, and mud bogging, or maybe storming across the open desert at speed. We agree. Setting off to conquer the earth is why you built your ultimate truck or Jeep. To others, the ultimate adventure is finding the wave, hiking a new trail, kayaking down a roaring river or skiing the impossible run. Your adventure could be loading the family into your truck and heading out to camp under the stars, pulling your boat to a lake, or carrying your dirt bike to a remote trail. Whatever your adventure, make the journey as exciting as the destination. Get outside. Explore, unplug, play in the dirt and go further. Because Life is Better Off-Road.™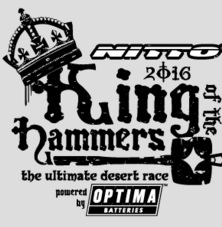 Compton, California (January 11, 2016) – Multiple Transamerican Auto Parts business divisions including off-road retailer 4 Wheel Parts, are returning as official event partners and sponsors for the 10th annual Ultra4 Nitto King of the Hammers in Johnson Valley, California. Transamerican Manufacturing Group (TMG) will sponsor numerous activities and events, including the Smittybilt Every Man Challenge, under the auspices of its numerous off-road and performance aftermarket companies that include Smittybilt, Pro Comp, Rubicon Express and G2 Axle & Gear. The weeklong "Ultimate Desert Race" featuring multiple classes from motorcycles to the high horse powered Unlimited Class 4400 Ultra4 cars runs from January 30 – February 6, and includes 4 Wheel Parts' sponsorship of the Ultra4 qualifying sessions for the 4400 main race and the Smittybilt Every Man Challenge on February 4.
Team 4 Wheel Parts racers Greg Adler, Brent Goegebuer and Kevin Adler are all slated to compete, with Greg Adler and Goegebuer in Friday's 4400 marquee event and Kevin Adler running in the Every Man Challenge. As an official partner, 4 Wheel Parts will have a significant retail presence with their Showroom on Wheels providing parts and services for teams in addition to the tens of thousands of off-road enthusiasts expected to descend upon the region dubbed "Hammertown." Parts and accessories such as tires, tow straps and winches will be available on-site along with expert advice from seasoned off-roaders.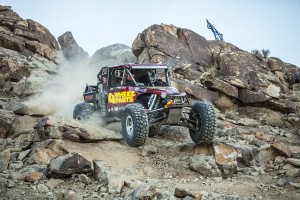 "King of the Hammers continues to provide us with one of the most unique opportunities to engage with our customers right here in our back yard in Southern California," says Greg Adler, who along with competing in the event, serves as President and CEO of TAP. "This has become one of the largest gatherings of off-roaders in the country and while the races themselves are the highlights of the week, the open desert and spectacular trails attract countless wheelers who make the pilgrimage out to Johnson Valley each year for Hammers. We are all looking forward to the 10th anniversary of this incredible event. "
Complementing its sponsorship of the King of the Hammers Stock Class, Pro Comp recently launched its new Tire Racing Program helmed by Kevin Adler, offering racers in various classes the opportunity to benefit from special pricing on select Pro Comp Xtreme MT2 tires. Rubicon Express is also sponsoring Modified division and for the first time, the Legends class will have a sponsor in G2 Axle & Gear.
"We are honored to have lent our support to King of the Hammers from the beginning," says Chloe Eady, TMG Brands Marketing Manager. "We are excited for the numerous promotions we are running at the event along with the services our brands are providing such as free tire mounting from Pro Comp and drivetrain servicing provided by G2. With all of this in addition to Smittybilt's return as the 2016 Every Man Challenge title sponsor, it's going to be quite a week."
The countdown to the 2016 King of the Hammers begins this Tuesday, January 12 as 4 Wheel Parts teams up with Ultra4 Racing to present the drawing for the Smittybilt Every Man at its Compton 4 Wheel Parts location.
About Transamerican Auto Parts: Transamerican Auto Parts is the world's leading manufacturer, wholesaler, and retailer of aftermarket parts and accessories for trucks, Jeeps and SUVs, including off-road tires and wheels and Jeep Wrangler bumpers. Transamerican operations are comprised of 72 4 Wheel Parts retail locations in North America, Transamerican Wholesale sales and distribution, Dealer Services International and the Transamerican Manufacturing Group which includes Smittybilt, Rubicon Express, G2 Axle & Gear, Pro Comp, LRG Wheels and Poison Spyder Customs. We Sell It. We Own It. We Live It. For more information about Transamerican Auto Parts, Dealer Services International and Transamerican Manufacturing Group, please visit: transamericanautoparts.com.
Compton, California (November 12, 2015) – 4 Wheel Parts has announced its most recent retail store acquisition in Virginia Beach, Virginia. The location, formerly Atlantic AutoSports, will bring the total of 4 Wheel Parts showrooms to 72 as the Transamerican Auto Parts subsidiary continues its ambitious national retail expansion.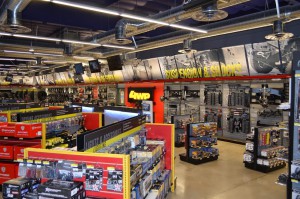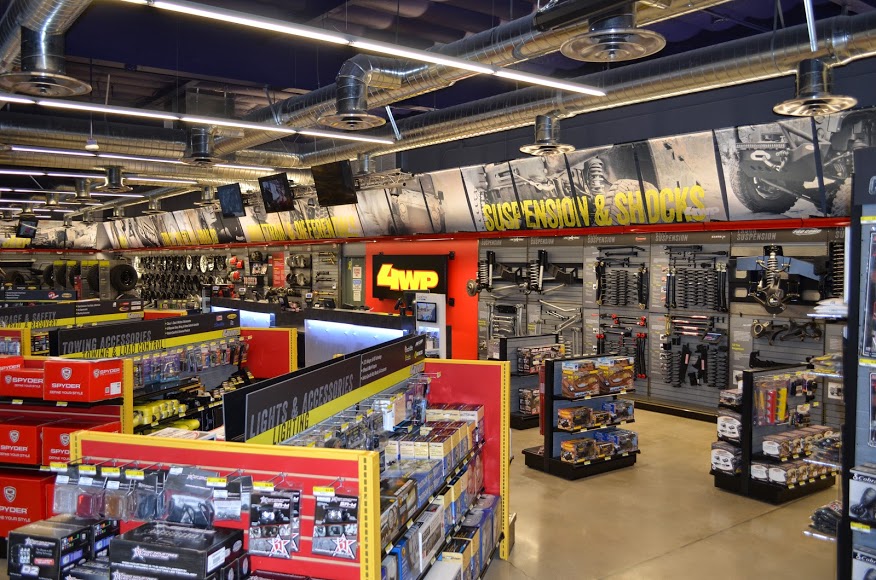 Opening its doors in 2010, Atlantic AutoSports built a reputation for excellent quality and service while touting the message, "We install it all." While retaining the same expert staff, the location will continue to provide superior service and installation from the leader in the off-road performance aftermarket while customers will realize the benefits of a larger selection of products to choose from, shopping online or by phone and convenient in-store pick-up. The location will also continue as an Adrian Steel dealer and installer, providing customers with "Work Ready" commercial van upfits.
"We are excited to introduce 4 Wheel Parts to Virginia Beach and the Mid-Atlantic region," said Director of Store Operations, Sam Cervantes. "There is an incredible passion for off-roading in the area and we are looking forward to interacting with the local community both in the store and out on the trails."
In addition to delivering the outstanding pricing and selection 4 Wheel Parts customers have grown accustomed to, the location has been slated for a complete renovation which will include a state of the art showroom. "We're already planning for the new store remodel and this location, once transformed, will feature an industry leading environment where customers will have the opportunity receive expert advice and review products in our brand new interactive showroom," said Cervantes.
4 Wheel Parts Virginia Beach (Formerly Atlantic AutoSports)
Address: 3232 Virginia Beach Blvd, Virginia Beach, VA 23452
Phone: (877) 475-0833
About 4 Wheel Parts
4 Wheel Parts is the global leader in truck, Jeep, SUV and off-road performance products. With 72 locations across the U.S. and Canada and growing, 4 Wheel Parts Service Centers install all the products they sell. Maintaining the nation's largest inventory of off-road tires, wheels, lift kits and accessories, 4 Wheel Parts serves customers across the country and around the globe. Life is Better Off-Road™. Visit them at 4wheelparts.com or call toll-free 877-474-4821.
About Transamerican Auto Parts: Transamerican Auto Parts is the world's leading manufacturer, wholesaler, and retailer of aftermarket parts and accessories for trucks, Jeeps, SUVs and four wheel drive vehicles. Transamerican operations are comprised of 72 4 Wheel Parts retail locations in North America, Transamerican Wholesale sales and distribution, Dealer Services International and the Transamerican Manufacturing Group which includes Smittybilt, Rubicon Express, G2 Axle & Gear, Pro Comp, LRG Wheels and Poison Spyder Customs. We Sell It. We Own It. We Live It. For more information about Transamerican Auto Parts, Dealer Services International and Transamerican Manufacturing Group, please visit: transamericanautoparts.com