Browsing articles in "Company News"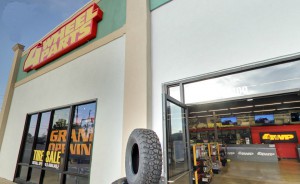 On September 27, 4 Wheel Parts held grand opening celebrations for new stores in Edmonton, Alberta Canada and Bossier City, Louisiana. Festivities at the locations included $1,000 shopping sprees, prize drawings and exclusive onsite deals.
"These stores represent the next level of retailing for the off-road industry," says Transamerican Auto Parts president and CEO Greg Adler. Interactive onsite displays and Google See Inside virtual tours of showrooms and service bays make the stores impressive, state-of-the art destinations for 4×4 enthusiasts.
The Bossier City, Louisiana store is located at 2001 Airline Drive, Bossier City, LA 71111. "We had a 20-foot-tall monster truck bounce house and slide for the kids, two Jeep clubs attending and a car crush," says Terry Baker, Bossier City store manager. The Edmonton location is at 4220 99 St NW Edmonton, Alberta T6E 5B3 Canada and becomes the sixth 4 Wheel Parts store to open its doors in Canada. Both stores staged ribbon-cutting ceremonies and offered 50% off onsite installation on any one item and heavily discounted Smittybilt XRC 9500 winches.
4 Wheel Parts has enlisted as an Event Level Sponsor for the 33rd annual O'Reilly Auto Parts Fall 4-Wheel Jamboree Nationals. Set to happen at the Indiana State Fairgrounds in Indianapolis September 19-21, Lucas Oil's final Nationals event of the year is expected to draw over 4,500 trucks and Jeeps.
Family activities will be on the schedule along with Monster Truck Thunder Drags, the Dick Cepek Burnout Competition, a Mickey Thompson Tough Trucks Challenge and over 50 onsite vendors. Affiliated 4Wheel Drive Hardware plans to display its Zombie Slayer Jeep so visitors can vote onsite for their favorite Tire & Wheel package to add to the Jeep. Their vote enters them for a chance to win Tires & Wheels to go on their own Jeeps.
Activities at the event will be captured on film to air on different TV channels including SPEED, ESPN 2, Spike TV, Fox Sports Network and The Outdoor Channel. Lucas Oil 2014 Nationals Jamborees were staged earlier this year in Lima, Ohio, Springfield, Illinois, and Bloomsburg, Pennsylvania.
On July 18, SEMA welcomed Transamerican Auto Parts President and CEO Greg Adler to another term on their board. The installation banquet was held at the Sheraton Fairplex Hotel & Conference Center in Pomona, California. The gala event was devoted to announcing the new inductees into SEMA's Hall of Fame as well as the appointed board members.
Adler's first term on the board spanned from July 2011 to last year. "I'm proud to serve another term on the SEMA Board of Directors and to support the aftermarket industry," he says. "I look forward to continuing as a strong advocate for the entire truck and Jeep segment of our industry."
"Leaders and Legends" was the theme of this year's SEMA Installation Gala. Aftermarket automotive industry rising stars rubbed elbows with established achievers in the 4×4 industry. "It was our privilege to pay tribute to some of these amazing leaders at our annual SEMA Installation Gala," says SEMA President and CEO Chris Kersting.
Transamerican Auto Parts is a leading manufacturer, wholesaler, and retailer of aftermarket parts and accessories for light trucks, Jeeps, sport utility vehicles, and other 4x4s.  Its 4 Wheel Parts stores have over 60 retail locations throughout North America.
4 Wheel Parts was named the presenting sponsor and official retailer of the 2014 Top Truck Challenge held in Hollister, California June 9-13. It featured ten pre-selected contenders taking on extreme off-road courses in trucks ranging from Broncos to Samurais. The results are in and Matt Christian captured first place in his 1995 Chevy S-10, second place went to Rob Inglis driving a 1996 Dodge Ram 1500, and Tracker Bain landed third in his 1969 Ford Bronco.
For the annual challenge, Four Wheeler readers voted on the vehicles they thought deserved a shot at tackling the demanding course. Challenges include an Obstacle Course, Mud Pit, Tow Test, Frame Twister, Hill Climb, Coal Chute, and Tank Trap. Competitors are not allowed to use outside help, but can use a winch on their own rigs.
"4 Wheel Parts has been a great partner over the years and the company's commitment to providing quality service and products for the off-road community mirrors Four Wheeler's continued mission of bringing enthusiasts the very best off-road action, entertainment and coverage in the world," says Christian Hazel, Four Wheeler Network editor-in-chief.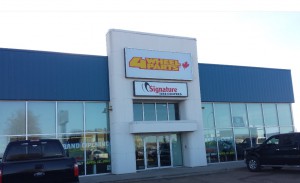 4 Wheel Parts' newest location held a Grand Opening Celebration at its Red Deer, Canada store on April 12. It's the fifth 4 Wheel Parts Canadian location and was previously the site of Canada Custom Vehicles.
"We had a big garage sale that had products like used tires and accessories  left over from the previous tenants," says 4 Wheel Parts Red Deer store manager Brad Gilbert. There were hourly onsite giveaways and exclusive installation deals, and attendees were treated to free barbecue.
The Alberta Red Deer store is a little over an hour and a half drive south of Edmonton and joins the 4 Wheel Parts fleet of Canadian locations with others in Montreal, Calgary, Burlington, and Fredericton.
Technicians at the opening performed installations for customers and offered consulting advice. The cutting edge 4 Wheel Parts store has an online Google virtual tour of its brand new showroom where users online can navigate the premises virtually to view high res images of off-road truck and Jeep parts.