Browsing articles from "September, 2016"
Compton, California (Sept 26, 2016) – Transamerican Auto Parts is proud to announce the 2016 renewal of the "Life is Better Off-Road™" SEMA builder award. After a tremendously successful launch last year at the 2015 SEMA Show in Las Vegas, Nevada, the "Life is Better Off-Road™" award has established itself as the premier industry prize awarded by Transamerican Auto Parts to the best presented, truly off-road capable truck, Jeep or SUV on display at the show.
"With the off-road performance aftermarket category firmly entrenched into the landscape at SEMA, the Transamerican Auto Parts "Life is Better Off-Road™" award uniquely recognizes the technical achievements and engineering advancements exclusive to the development of aftermarket products for off-road trucks, Jeeps and SUVs," said Transamerican Auto Parts President and CEO, Greg Adler. "It's an honor for us to recognize the individuals responsible for these incredible, off-road capable builds."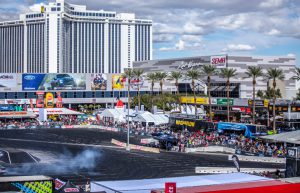 The Award's inaugural winner, The CC Legend Jeep by Addictive Desert Designs, was chosen from among hundreds of submissions by the carefully selected panel of leading industry authorities at the 2015 SEMA show in a ceremony hosted by television personality and noted automotive enthusiast Rutledge Wood. This year's panel of judges will once again represent a broad section of the off-road industry to include fabricators, journalists, industry personalities and professional off-road racers.
The award is open to all off-road vehicle constructors and product manufacturers on display at the SEMA show and will once again be judged by an elite panel of the off-road industry's leading authorities who select 10 semi-finalists from among the submitted entries based on such criteria as off-road reliability and capability, real-world functionality, quality of craftsmanship and overall vehicle presentation. The panel will then choose one Jeep and one truck/SUV as the two finalists to be considered for recognition as the most authentic, off-road-capable vehicle at the SEMA Show.
The award, a custom designed trophy, will be presented by Transamerican Auto Parts President and CEO, Greg Adler, at 2 p.m. on Thursday, November 3 at the Pro Comp/Transamerican Auto Parts Booth #62112 within the SEMA SCORE Baja 1000 Experience Area (Located outside of the South Hall in the Silver Lot).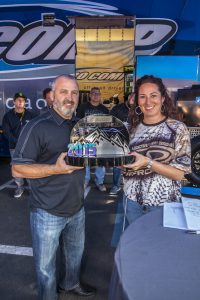 In addition to the trophy itself, the winner will receive a cover feature and multi-page vehicle spotlight in ORA Magazine, a professional photo shoot and recognition across the spectrum of Transamerican social media and digital channels. A promotional email campaign will highlight the award and winners and TAP will extend an invitation to be displayed in feature locations at TAP-sponsored events, tradeshows and Truck & Jeep Fests. The 10 semi-finalists will also be included in the full media campaign as well as receiving ribbons in recognition of the accomplishment.
To submit your off-road SEMA display vehicle for award consideration, please visit www.transamericanautoparts.com/award.There you may complete your entry on-line or download the PDF application that may be completed and emailed to lifeisbetteroffroadaward@transamericanautoparts.com .
For more information, complete rules, terms and conditions for the Transamerican Auto Parts "Life is Better Off-Road™" SEMA builder award please visit www.transamericanautoparts.com/award or email questions to lifeisbetteroffroadaward@transamericanautoparts.com.
Life is Better Off-Road™
There are those among us who believe that pursuing life off-road means rock crawling, trail running, and mud bogging, or maybe storming across the open desert at speed. We agree. Setting off to conquer the earth is why you built your ultimate truck or Jeep. To others, the ultimate adventure is finding the wave, hiking a new trail, kayaking down a roaring river or skiing the impossible run. Your adventure could be loading the family into your truck and heading out to camp under the stars, pulling your boat to a lake, or carrying your dirt bike to a remote trail. Whatever your adventure, make the journey as exciting as the destination. Get outside. Explore, unplug, play in the dirt and go further. Because Life is Better Off-Road.™
About Transamerican Auto Parts: Transamerican Auto Parts is the world's leading manufacturer, wholesaler, and retailer of aftermarket parts and accessories for trucks, Jeeps, SUVs and four wheel drive vehicles. Transamerican operations are comprised of 75 4 Wheel Parts retail locations in North America, Transamerican Wholesale sales and distribution, Dealer Services International and the Transamerican Manufacturing Group which includes Smittybilt, Rubicon Express, G2 Axle & Gear, Pro Comp, LRG Wheels and Poison Spyder. We Sell It. We Own It. We Live It. For more information about Transamerican Auto Parts, Dealer Services International and Transamerican Manufacturing Group, please visit: transamericanautoparts.com.
4 Wheel Parts, the global leader in off-road performance product sales and service has released further details of its upcoming launch into the immensely popular UTV retail marketplace in collaboration with influential UTV Internet portal, UTVUnderground. The alliance, uniting the off-road performance products sales and distribution powerhouse with the Internet's leading resource for UTV-related content and information, has resulted in the forthcoming introduction of 4 Wheel Parts UTVUnderground Garage – the ultimate UTV parts and accessory shopping experience. The retail marketplace will provide UTV owners enhanced safety, performance and customization with a singular destination backed by 4 Wheel Parts' industry leading product selection, installation, customer service and nationwide distribution.

With the official launch of the 4 Wheel Parts UTVUnderground Garage at the Sand Sports Super Show September 16-18 at the Orange County Fair and Events Center in Costa Mesa, CA, consumers will have the first opportunity to experience the comprehensive selection of UTV parts and accessories available.
The move into the UTV aftermarket is a natural fit for the off-road retailer explains 4 Wheel Parts Chief Operating Officer, Rich Botello. "The off-road landscape continues to evolve," said Botello. "Whether they're out on the trail, the dunes or headed out to a favorite hunting or fishing spot, UTVs provide a unique level of accessibility and affordability for consumers with all levels of off-road driving experience. We're well positioned to service these consumers with the infrastructure we've built and the expertise we've acquired over 55 years in the off-road performance and accessory business." This infrastructure includes 75 retail and installation locations, e-commerce and mail order services, same day pick up or next day delivery and over $125M in inventory of products for off-road enthusiasts.
Visitors to the Sand Sports Super Show will have the opportunity to visit the new 4 Wheel Parts UTVUnderground Garage display which will be overflowing with the latest products from Rigid Industries, Cagewrx, Walker Evans Racing, Cognito Motorsports, FOX SHOX, SDR Motorsports, Tensor Tires, Method Race Wheels, HCR Racing, Nelson & Nelson, MSA Wheels, EFX Tires, Sand Tires Unlimited, BFGoodrich, Factory UTV, King Shocks, PRP Seats, Simpson, K&N Engineering, Racepak, Trinity Racing, HMF, Vision-X, Gorilla Whips, PCI Communications, SSV Works, Mob Armor, Axia Alloys, Assault Industries, Grant Steering Wheels, Motor Master Powersports and more.

The 4 Wheel Parts UTVUnderground Garage booth will also feature four newly built custom vehicles showcasing parts and accessories available through The Garage. These four unique builds represent the wide range of UTV performance and capabilities for the desert and the dunes.
"With these four custom builds we wanted to illustrate that in addition to finding the latest UTV parts and accessories via 4 Wheel Parts UTVUnderground Garage, you can also drop your UTV off and have it built without the hassle of chasing down parts and installers," said Joey DiGiovanni, Founder and CEO of UTVUnderground.com. "We have now made it easy for UTV enthusiasts to customize their UTVs."
The 4 Wheel Parts UTVUnderground Garage at the Sand Sports Super Show can be found inside the blue gate entrance. Don't miss this unique opportunity to check out the custom builds and the best selection of the newest UTV parts and accessories.
4 Wheel Parts, UTVUnderground and Polaris RZR are celebrating the launch of The UTVUnderground Garage with a kickoff party at the Sand Sports Super Show booth Friday night September 16 at 6 p.m. It will include free drinks, music, merchandise giveaways and more and UTV enthusiasts are welcome to attend.
What: 4 Wheel Parts UTVUnderground Garage
Where: Sand Sports Super Show
             OC Fair and Events Center – Costa Mesa, CA
Inside by the Blue Gate Entrance
When: September 16-18
About 4 Wheel Parts: 
4 Wheel Parts is the global leader in off-road truck, Jeep and aftermarket performance products. With 75 locations across the U.S. and Canada and growing, 4 Wheel Parts Service Centers install all the products they sell. Maintaining the nation's largest inventory of off-road tires, wheels, suspension products and accessories, 4 Wheel Parts serves customers across the country and around the globe. Life is Better Off-Road™. Visit them at 4wheelparts.com or call toll-free 877-474-4821
About UTVUnderground.com:
The world's fastest growing all-inclusive UTV site contributed to by both enthusiasts and manufacturers alike. UTVUnderground is the go-to site for fresh, original content and is known for its dedication to hosting all of the latest news and insight surrounding the UTV culture. Thousands of monthly visitors from over 100 different countries around the world go to UTVUnderground.com for their daily dose of UTV news and information.